Calendar Full Width Block
29.3
Wednesday1490734800
30.3
Thursday1490821200
31.3
Friday1490907600
1.4
Saturday1490994000
2.4
Sunday1491080400
3.4
Monday1491166800
4.4
Tuesday1491253200
5.4
Wednesday1491339600
6.4
Thursday1491426000
7.4
Friday1491512400
8.4
Saturday1491598800
9.4
Sunday1491685200
10.4
Monday1491771600
11.4
Tuesday1491858000
12.4
Wednesday1491944400
13.4
Thursday1492030800
14.4
Friday1492117200
15.4
Saturday1492203600
16.4
Sunday1492290000
17.4
Monday1492376400
18.4
Tuesday1492462800
19.4
Wednesday1492549200
20.4
Thursday1492635600
21.4
Friday1492722000
22.4
Saturday1492808400
23.4
Sunday1492894800
24.4
Monday1492981200
25.4
Tuesday1493067600
26.4
Wednesday1493154000
27.4
Thursday1493240400
28.4
Friday1493326800
29.4
Saturday1493413200
30.4
Sunday1493499600
1.5
Monday1493586000
2.5
Tuesday1493672400
3.5
Wednesday1493758800
4.5
Thursday1493845200
5.5
Friday1493931600
6.5
Saturday1494018000
7.5
Sunday1494104400
8.5
Monday1494190800
9.5
Tuesday1494277200
10.5
Wednesday1494363600
11.5
Thursday1494450000
12.5
Friday1494536400
13.5
Saturday1494622800
14.5
Sunday1494709200
15.5
Monday1494795600
16.5
Tuesday1494882000
17.5
Wednesday1494968400
18.5
Thursday1495054800
19.5
Friday1495141200
20.5
Saturday1495227600
21.5
Sunday1495314000
22.5
Monday1495400400
23.5
Tuesday1495486800
24.5
Wednesday1495573200
25.5
Thursday1495659600
26.5
Friday1495746000
27.5
Saturday1495832400
28.5
Sunday1495918800
29.5
Monday1496005200
30.5
Tuesday1496091600
31.5
Wednesday1496178000
1.6
Thursday1496264400
2.6
Friday1496350800
3.6
Saturday1496437200
4.6
Sunday1496523600
5.6
Monday1496610000
6.6
Tuesday1496696400
7.6
Wednesday1496782800
8.6
Thursday1496869200
9.6
Friday1496955600
10.6
Saturday1497042000
11.6
Sunday1497128400
12.6
Monday1497214800
13.6
Tuesday1497301200
14.6
Wednesday1497387600
15.6
Thursday1497474000
16.6
Friday1497560400
17.6
Saturday1497646800
18.6
Sunday1497733200
19.6
Monday1497819600
20.6
Tuesday1497906000
21.6
Wednesday1497992400
22.6
Thursday1498078800
23.6
Friday1498165200
24.6
Saturday1498251600
25.6
Sunday1498338000
26.6
Monday1498424400
27.6
Tuesday1498510800
28.6
Wednesday1498597200
29.6
Thursday1498683600
30.6
Friday1498770000
1.7
Saturday1498856400
2.7
Sunday1498942800
3.7
Monday1499029200
4.7
Tuesday1499115600
5.7
Wednesday1499202000
6.7
Thursday1499288400
7.7
Friday1499374800
8.7
Saturday1499461200
9.7
Sunday1499547600
10.7
Monday1499634000
11.7
Tuesday1499720400
12.7
Wednesday1499806800
13.7
Thursday1499893200
14.7
Friday1499979600
15.7
Saturday1500066000
16.7
Sunday1500152400
17.7
Monday1500238800
18.7
Tuesday1500325200
19.7
Wednesday1500411600
20.7
Thursday1500498000
21.7
Friday1500584400
22.7
Saturday1500670800
23.7
Sunday1500757200
24.7
Monday1500843600
25.7
Tuesday1500930000
26.7
Wednesday1501016400
27.7
Thursday1501102800
28.7
Friday1501189200
29.7
Saturday1501275600
30.7
Sunday1501362000
31.7
Monday1501448400
1.8
Tuesday1501534800
2.8
Wednesday1501621200
3.8
Thursday1501707600
4.8
Friday1501794000
5.8
Saturday1501880400
6.8
Sunday1501966800
7.8
Monday1502053200
8.8
Tuesday1502139600
9.8
Wednesday1502226000
10.8
Thursday1502312400
11.8
Friday1502398800
12.8
Saturday1502485200
13.8
Sunday1502571600
14.8
Monday1502658000
15.8
Tuesday1502744400
16.8
Wednesday1502830800
17.8
Thursday1502917200
18.8
Friday1503003600
19.8
Saturday1503090000
20.8
Sunday1503176400
21.8
Monday1503262800
22.8
Tuesday1503349200
23.8
Wednesday1503435600
24.8
Thursday1503522000
25.8
Friday1503608400
26.8
Saturday1503694800
27.8
Sunday1503781200
28.8
Monday1503867600
29.8
Tuesday1503954000
30.8
Wednesday1504040400
31.8
Thursday1504126800
1.9
Friday1504213200
2.9
Saturday1504299600
3.9
Sunday1504386000
4.9
Monday1504472400
5.9
Tuesday1504558800
6.9
Wednesday1504645200
7.9
Thursday1504731600
8.9
Friday1504818000
9.9
Saturday1504904400
10.9
Sunday1504990800
11.9
Monday1505077200
12.9
Tuesday1505163600
13.9
Wednesday1505250000
14.9
Thursday1505336400
15.9
Friday1505422800
16.9
Saturday1505509200
17.9
Sunday1505595600
18.9
Monday1505682000
19.9
Tuesday1505768400
20.9
Wednesday1505854800
21.9
Thursday1505941200
22.9
Friday1506027600
23.9
Saturday1506114000
24.9
Sunday1506200400
25.9
Monday1506286800
26.9
Tuesday1506373200
27.9
Wednesday1506459600
28.9
Thursday1506546000
29.9
Friday1506632400
30.9
Saturday1506718800
1.10
Sunday1506805200
2.10
Monday1506891600
3.10
Tuesday1506978000
4.10
Wednesday1507064400
5.10
Thursday1507150800
6.10
Friday1507237200
7.10
Saturday1507323600
8.10
Sunday1507410000
9.10
Monday1507496400
10.10
Tuesday1507582800
11.10
Wednesday1507669200
12.10
Thursday1507755600
13.10
Friday1507842000
14.10
Saturday1507928400
15.10
Sunday1508014800
16.10
Monday1508101200
17.10
Tuesday1508187600
18.10
Wednesday1508274000
19.10
Thursday1508360400
20.10
Friday1508446800
21.10
Saturday1508533200
22.10
Sunday1508619600
23.10
Monday1508706000
24.10
Tuesday1508792400
25.10
Wednesday1508878800
26.10
Thursday1508965200
27.10
Friday1509051600
28.10
Saturday1509138000
29.10
Sunday1509224400
30.10
Monday1509314400
31.10
Tuesday1509400800
1.11
Wednesday1509487200
2.11
Thursday1509573600
3.11
Friday1509660000
4.11
Saturday1509746400
5.11
Sunday1509832800
6.11
Monday1509919200
7.11
Tuesday1510005600
8.11
Wednesday1510092000
9.11
Thursday1510178400
10.11
Friday1510264800
11.11
Saturday1510351200
12.11
Sunday1510437600
13.11
Monday1510524000
14.11
Tuesday1510610400
15.11
Wednesday1510696800
16.11
Thursday1510783200
17.11
Friday1510869600
18.11
Saturday1510956000
19.11
Sunday1511042400
20.11
Monday1511128800
21.11
Tuesday1511215200
22.11
Wednesday1511301600
23.11
Thursday1511388000
24.11
Friday1511474400
25.11
Saturday1511560800
26.11
Sunday1511647200
27.11
Monday1511733600
28.11
Tuesday1511820000
29.11
Wednesday1511906400
30.11
Thursday1511992800
1.12
Friday1512079200
2.12
Saturday1512165600
3.12
Sunday1512252000
4.12
Monday1512338400
5.12
Tuesday1512424800
6.12
Wednesday1512511200
7.12
Thursday1512597600
8.12
Friday1512684000
9.12
Saturday1512770400
10.12
Sunday1512856800
11.12
Monday1512943200
12.12
Tuesday1513029600
13.12
Wednesday1513116000
14.12
Thursday1513202400
15.12
Friday1513288800
16.12
Saturday1513375200
17.12
Sunday1513461600
18.12
Monday1513548000
19.12
Tuesday1513634400
20.12
Wednesday1513720800
21.12
Thursday1513807200
22.12
Friday1513893600
23.12
Saturday1513980000
24.12
Sunday1514066400
25.12
Monday1514152800
26.12
Tuesday1514239200
27.12
Wednesday1514325600
28.12
Thursday1514412000
29.12
Friday1514498400
30.12
Saturday1514584800
31.12
Sunday1514671200
1.1
Monday1514757600
2.1
Tuesday1514844000
3.1
Wednesday1514930400
4.1
Thursday1515016800
5.1
Friday1515103200
6.1
Saturday1515189600
7.1
Sunday1515276000
8.1
Monday1515362400
9.1
Tuesday1515448800
10.1
Wednesday1515535200
11.1
Thursday1515621600
12.1
Friday1515708000
13.1
Saturday1515794400
14.1
Sunday1515880800
15.1
Monday1515967200
16.1
Tuesday1516053600
17.1
Wednesday1516140000
18.1
Thursday1516226400
19.1
Friday1516312800
20.1
Saturday1516399200
21.1
Sunday1516485600
22.1
Monday1516572000
23.1
Tuesday1516658400
24.1
Wednesday1516744800
25.1
Thursday1516831200
26.1
Friday1516917600
27.1
Saturday1517004000
28.1
Sunday1517090400
29.1
Monday1517176800
30.1
Tuesday1517263200
31.1
Wednesday1517349600
1.2
Thursday1517436000
2.2
Friday1517522400
3.2
Saturday1517608800
4.2
Sunday1517695200
5.2
Monday1517781600
6.2
Tuesday1517868000
7.2
Wednesday1517954400
8.2
Thursday1518040800
9.2
Friday1518127200
10.2
Saturday1518213600
11.2
Sunday1518300000
12.2
Monday1518386400
13.2
Tuesday1518472800
14.2
Wednesday1518559200
15.2
Thursday1518645600
16.2
Friday1518732000
17.2
Saturday1518818400
18.2
Sunday1518904800
19.2
Monday1518991200
20.2
Tuesday1519077600
21.2
Wednesday1519164000
22.2
Thursday1519250400
23.2
Friday1519336800
24.2
Saturday1519423200
25.2
Sunday1519509600
26.2
Monday1519596000
27.2
Tuesday1519682400
28.2
Wednesday1519768800
1.3
Thursday1519855200
2.3
Friday1519941600
3.3
Saturday1520028000
4.3
Sunday1520114400
5.3
Monday1520200800
6.3
Tuesday1520287200
7.3
Wednesday1520373600
8.3
Thursday1520460000
9.3
Friday1520546400
10.3
Saturday1520632800
11.3
Sunday1520719200
12.3
Monday1520805600
13.3
Tuesday1520892000
14.3
Wednesday1520978400
15.3
Thursday1521064800
16.3
Friday1521151200
17.3
Saturday1521237600
18.3
Sunday1521324000
19.3
Monday1521410400
20.3
Tuesday1521496800
21.3
Wednesday1521583200
22.3
Thursday1521669600
23.3
Friday1521756000
24.3
Saturday1521838800
25.3
Sunday1521925200
26.3
Monday1522011600
27.3
Tuesday1522098000
28.3
Wednesday1522184400
29.3
Thursday1522270800
30.3
Friday1522357200
31.3
Saturday1522443600
1.4
Sunday1522530000
2.4
Monday1522616400
3.4
Tuesday1522702800
4.4
Wednesday1522789200
5.4
Thursday1522875600
6.4
Friday1522962000
7.4
Saturday1523048400
8.4
Sunday1523134800
9.4
Monday1523221200
10.4
Tuesday1523307600
11.4
Wednesday1523394000
12.4
Thursday1523480400
13.4
Friday1523566800
14.4
Saturday1523653200
15.4
Sunday1523739600
16.4
Monday1523826000
17.4
Tuesday1523912400
18.4
Wednesday1523998800
19.4
Thursday1524085200
20.4
Friday1524171600
21.4
Saturday1524258000
22.4
Sunday1524344400
23.4
Monday1524430800
24.4
Tuesday1524517200
25.4
Wednesday1524603600
26.4
Thursday1524690000
27.4
Friday1524776400
28.4
Saturday1524862800
29.4
Sunday1524949200
30.4
Monday1525035600
1.5
Tuesday1525122000
2.5
Wednesday1525208400
3.5
Thursday1525294800
4.5
Friday1525381200
5.5
Saturday1525467600
6.5
Sunday1525554000
7.5
Monday1525640400
8.5
Tuesday1525726800
9.5
Wednesday1525813200
10.5
Thursday1525899600
11.5
Friday1525986000
12.5
Saturday1526072400
13.5
Sunday1526158800
14.5
Monday1526245200
15.5
Tuesday1526331600
16.5
Wednesday1526418000
17.5
Thursday1526504400
18.5
Friday1526590800
19.5
Saturday1526677200
20.5
Sunday1526763600
21.5
Monday1526850000
22.5
Tuesday1526936400
23.5
Wednesday1527022800
24.5
Thursday1527109200
25.5
Friday1527195600
26.5
Saturday1527282000
27.5
Sunday1527368400
28.5
Monday1527454800
29.5
Tuesday1527541200
30.5
Wednesday1527627600
31.5
Thursday1527714000
1.6
Friday1527800400
2.6
Saturday1527886800
3.6
Sunday1527973200
4.6
Monday1528059600
5.6
Tuesday1528146000
6.6
Wednesday1528232400
7.6
Thursday1528318800
8.6
Friday1528405200
9.6
Saturday1528491600
10.6
Sunday1528578000
11.6
Monday1528664400
12.6
Tuesday1528750800
13.6
Wednesday1528837200
14.6
Thursday1528923600
15.6
Friday1529010000
16.6
Saturday1529096400
17.6
Sunday1529182800
18.6
Monday1529269200
19.6
Tuesday1529355600
20.6
Wednesday1529442000
21.6
Thursday1529528400
22.6
Friday1529614800
23.6
Saturday1529701200
24.6
Sunday1529787600
25.6
Monday1529874000
26.6
Tuesday1529960400
27.6
Wednesday1530046800
28.6
Thursday1530133200
29.6
Friday1530219600
30.6
Saturday1530306000
1.7
Sunday1530392400
2.7
Monday1530478800
3.7
Tuesday1530565200
4.7
Wednesday1530651600
5.7
Thursday1530738000
6.7
Friday1530824400
7.7
Saturday1530910800
8.7
Sunday1530997200
9.7
Monday1531083600
10.7
Tuesday1531170000
11.7
Wednesday1531256400
12.7
Thursday1531342800
13.7
Friday1531429200
14.7
Saturday1531515600
15.7
Sunday1531602000
16.7
Monday1531688400
17.7
Tuesday1531774800
18.7
Wednesday1531861200
19.7
Thursday1531947600
20.7
Friday1532034000
21.7
Saturday1532120400
22.7
Sunday1532206800
23.7
Monday1532293200
24.7
Tuesday1532379600
25.7
Wednesday1532466000
26.7
Thursday1532552400
27.7
Friday1532638800
28.7
Saturday1532725200
29.7
Sunday1532811600
30.7
Monday1532898000
31.7
Tuesday1532984400
1.8
Wednesday1533070800
2.8
Thursday1533157200
3.8
Friday1533243600
4.8
Saturday1533330000
5.8
Sunday1533416400
6.8
Monday1533502800
7.8
Tuesday1533589200
8.8
Wednesday1533675600
9.8
Thursday1533762000
10.8
Friday1533848400
11.8
Saturday1533934800
12.8
Sunday1534021200
13.8
Monday1534107600
14.8
Tuesday1534194000
15.8
Wednesday1534280400
16.8
Thursday1534366800
17.8
Friday1534453200
18.8
Saturday1534539600
19.8
Sunday1534626000
20.8
Monday1534712400
21.8
Tuesday1534798800
22.8
Wednesday1534885200
23.8
Thursday1534971600
24.8
Friday1535058000
25.8
Saturday1535144400
26.8
Sunday1535230800
27.8
Monday1535317200
28.8
Tuesday1535403600
29.8
Wednesday1535490000
30.8
Thursday1535576400
31.8
Friday1535662800
1.9
Saturday1535749200
2.9
Sunday1535835600
3.9
Monday1535922000
4.9
Tuesday1536008400
5.9
Wednesday1536094800
6.9
Thursday1536181200
7.9
Friday1536267600
8.9
Saturday1536354000
9.9
Sunday1536440400
10.9
Monday1536526800
11.9
Tuesday1536613200
12.9
Wednesday1536699600
13.9
Thursday1536786000
14.9
Friday1536872400
15.9
Saturday1536958800
16.9
Sunday1537045200
17.9
Monday1537131600
18.9
Tuesday1537218000
19.9
Wednesday1537304400
20.9
Thursday1537390800
21.9
Friday1537477200
22.9
Saturday1537563600
23.9
Sunday1537650000
24.9
Monday1537736400
25.9
Tuesday1537822800
26.9
Wednesday1537909200
27.9
Thursday1537995600
28.9
Friday1538082000
29.9
Saturday1538168400
30.9
Sunday1538254800
1.10
Monday1538341200
2.10
Tuesday1538427600
3.10
Wednesday1538514000
4.10
Thursday1538600400
5.10
Friday1538686800
6.10
Saturday1538773200
7.10
Sunday1538859600
8.10
Monday1538946000
9.10
Tuesday1539032400
10.10
Wednesday1539118800
11.10
Thursday1539205200
12.10
Friday1539291600
13.10
Saturday1539378000
14.10
Sunday1539464400
15.10
Monday1539550800
16.10
Tuesday1539637200
17.10
Wednesday1539723600
18.10
Thursday1539810000
19.10
Friday1539896400
20.10
Saturday1539982800
21.10
Sunday1540069200
22.10
Monday1540155600
23.10
Tuesday1540242000
24.10
Wednesday1540328400
25.10
Thursday1540414800
26.10
Friday1540501200
27.10
Saturday1540587600
28.10
Sunday1540674000
29.10
Monday1540764000
30.10
Tuesday1540850400
31.10
Wednesday1540936800
1.11
Thursday1541023200
2.11
Friday1541109600
3.11
Saturday1541196000
4.11
Sunday1541282400
5.11
Monday1541368800
6.11
Tuesday1541455200
7.11
Wednesday1541541600
8.11
Thursday1541628000
9.11
Friday1541714400
10.11
Saturday1541800800
11.11
Sunday1541887200
12.11
Monday1541973600
13.11
Tuesday1542060000
14.11
Wednesday1542146400
15.11
Thursday1542232800
16.11
Friday1542319200
17.11
Saturday1542405600
18.11
Sunday1542492000
19.11
Monday1542578400
20.11
Tuesday1542664800
21.11
Wednesday1542751200
22.11
Thursday1542837600
23.11
Friday1542924000
24.11
Saturday1543010400
25.11
Sunday1543096800
26.11
Monday1543183200
27.11
Tuesday1543269600
28.11
Wednesday1543356000
29.11
Thursday1543442400
30.11
Friday1543528800
1.12
Saturday1543615200
2.12
Sunday1543701600
3.12
Monday1543788000
4.12
Tuesday1543874400
5.12
Wednesday1543960800
6.12
Thursday1544047200
7.12
Friday1544133600
8.12
Saturday1544220000
9.12
Sunday1544306400
10.12
Monday1544392800
11.12
Tuesday1544479200
12.12
Wednesday1544565600
13.12
Thursday1544652000
14.12
Friday1544738400
15.12
Saturday1544824800
16.12
Sunday1544911200
17.12
Monday1544997600
18.12
Tuesday1545084000
19.12
Wednesday1545170400
20.12
Thursday1545256800
21.12
Friday1545343200
22.12
Saturday1545429600
23.12
Sunday1545516000
24.12
Monday1545602400
25.12
Tuesday1545688800
26.12
Wednesday1545775200
27.12
Thursday1545861600
28.12
Friday1545948000
29.12
Saturday1546034400
30.12
Sunday1546120800
31.12
Monday1546207200
1.1
Tuesday1546293600
2.1
Wednesday1546380000
3.1
Thursday1546466400
4.1
Friday1546552800
5.1
Saturday1546639200
6.1
Sunday1546725600
7.1
Monday1546812000
8.1
Tuesday1546898400
9.1
Wednesday1546984800
10.1
Thursday1547071200
11.1
Friday1547157600
12.1
Saturday1547244000
13.1
Sunday1547330400
14.1
Monday1547416800
15.1
Tuesday1547503200
16.1
Wednesday1547589600
17.1
Thursday1547676000
18.1
Friday1547762400
19.1
Saturday1547848800
20.1
Sunday1547935200
21.1
Monday1548021600
22.1
Tuesday1548108000
23.1
Wednesday1548194400
24.1
Thursday1548280800
25.1
Friday1548367200
26.1
Saturday1548453600
27.1
Sunday1548540000
28.1
Monday1548626400
29.1
Tuesday1548712800
30.1
Wednesday1548799200
31.1
Thursday1548885600
1.2
Friday1548972000
2.2
Saturday1549058400
3.2
Sunday1549144800
4.2
Monday1549231200
5.2
Tuesday1549317600
6.2
Wednesday1549404000
7.2
Thursday1549490400
8.2
Friday1549576800
9.2
Saturday1549663200
10.2
Sunday1549749600
11.2
Monday1549836000
12.2
Tuesday1549922400
13.2
Wednesday1550008800
14.2
Thursday1550095200
15.2
Friday1550181600
16.2
Saturday1550268000
17.2
Sunday1550354400
18.2
Monday1550440800
19.2
Tuesday1550527200
20.2
Wednesday1550613600
21.2
Thursday1550700000
22.2
Friday1550786400
23.2
Saturday1550872800
24.2
Sunday1550959200
25.2
Monday1551045600
26.2
Tuesday1551132000
27.2
Wednesday1551218400
28.2
Thursday1551304800
1.3
Friday1551391200
2.3
Saturday1551477600
3.3
Sunday1551564000
4.3
Monday1551650400
5.3
Tuesday1551736800
6.3
Wednesday1551823200
7.3
Thursday1551909600
8.3
Friday1551996000
9.3
Saturday1552082400
10.3
Sunday1552168800
11.3
Monday1552255200
12.3
Tuesday1552341600
13.3
Wednesday1552428000
14.3
Thursday1552514400
15.3
Friday1552600800
16.3
Saturday1552687200
17.3
Sunday1552773600
18.3
Monday1552860000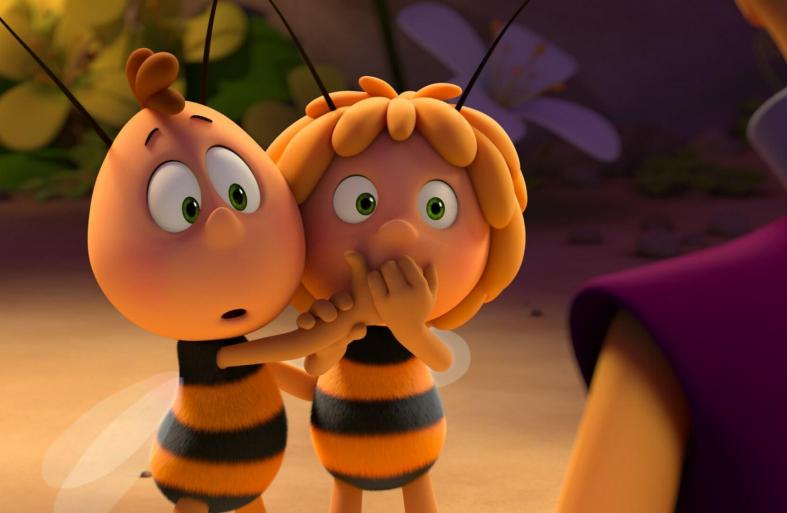 A special activity (in Heb.) about the creation of honey, including a sweet treat
Dir.: Noel Cleary, Sergio Delfino, Alexs Stadermann
83 minutes
When Maya accidentally embarrasses the Empress of Buzztropolis, she has to take part in a competition where everything is put on the line. A film about friendship, resourcefulness, and the power of optimism.
Dir.: Gus Van Sant
126 minutes
Will Hunting, a janitor at M.I.T., has a gift for mathematics that can take him far away from his blue collar roots. To achieve his dream he must turn his back on his neighborhood.
Dir.: Evgeny Ruman
92 minutes
Rami takes his dog for a walk and does not return. His wife, Shir, is clueless as to his whereabouts. Different people come in and out of the apartment during that night – each for their own reasons. Could one of them hold the key to the mystery?
Dir.: Alexander Payne
135 minutes
When scientists discover a way to shrink people as a solution for over population, Paul an all American man, decides to take part in the experiment. But he discovers that while he has more opportunities, humankind is just the same as anywhere else.
Dir.: Maayan Schwartz
45 minutes
The film displays life as a constant struggle between desire and determination, between body and spirit and between helplessness and optimism. Which will prevail?
Dir.: Adam Weingrod
58 minutes
In the center of Jerusalem, between east and west, opposite the old city walls, stands The French Hospital St. Louis – a hospice for the terminally ill. An intimate look at the lives of patients and staff from all sectors of the city.
Dir.: Carine Tardieu
100 minutes
Erwan discovers by chance that the man who raised him isn't his real dad, he sets out to find his biological father. He also meets the mysterious Anna, who has surprising ties to them both.